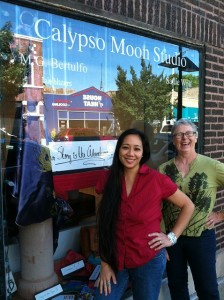 A quiet working studio shared by two messy, globe-trotting, Earth-inspired women who are feisty practitioners of the arts and the written word.
The joy of art in progress: Novels, poems, paintings, drawings, children's books.
Sallie Wolf finds on Mary Grace's writing table: calligraphy pens, plot structures, books on Philippine history, penciled stories of ancestors and archipelagos, photos of tall ships and canoes, hydrangea petals, curling birch bark, leather-bound notebooks and candles.
Mary Grace Bertulfo finds on Sallie's art table: Water-color brushes, moon photos, collage materials, nests, sketches and charcoal drawings of penguins in Antarctica, Norwegian fjords, Spanish arches, and lost objects magically transformed into angels and birds.
What will you find at our working studio? Every week is different at Calypso Moon. 331B Harrison Street. In the Oak Park Arts District. Appointments and information: mgb@cybermango.org.