We left the hotel this morning at 7 a.m. and caught a taxi out 11 kilometers to the Mactan Shrine where there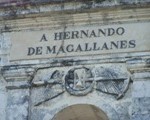 are two monuments, one is a marker of the place where Magellan fell in battle. And the other marker is for Lapu-lapu. Every year, they re-enact the Battle of Mactan. This year was the 486th.
We arrived and there was a cavalcade of police piled in open-backed trucks. Guards with rifles milled in and out of the crowds. This is how we knew it would be a big event. The bigger the event, the more heavily armed the security. On the side of the road, women sold sugared ube (purple yam) cookies, choco marbled rolls, and pan de sal (breakfast rolls). There were stalls with fans woven from nipa palm and men venders carrying plastic crates of ice-cold water slung from their shoulders. There were young green mangoes, fingerling bananas hanging from corrugated tin roof stalls, and chickens pecking around in yards. The local neighborhood watched us with half-amused smiles; we were such a bizarre spectacle traipsing through their neighborhood of sari-sari stores and homes.
There were a few hundred families at the Kadaugan Festival. I didn't take a head-count so I couldn't say. But if I had to guess, there were something like 500-ish people there. Before the festivities, the event began with singing and prayers. I found this very moving, especially in light of Filipino historical traditions. In the old days, in the sixteenth century, every major community event — like harvests or battles — began with prayers and offerings. There were beautifully gorgeous and simple songs accompanied by acoustic guitar.
The Tourism Officer I spoke to on the phone two days before suggested that we arrive a couple of hours early to try and get a good puwesto, a good spot for viewing the Re-enactment. I had many plans of taking crystal clear, unobstructed photos. But, by the time we figured out where to stand, the best spots had filled up two or three people deep. It was going to be really hard to see any of the performance.
I guess I should explain that the Re-enactment happens on the shores of what is now known as Magellan Bay. The opening is enclosed by 3 strands of mangroves on one side and on the opposite side is the shore. The shore, small and crescent-moon shaped served as the stage. Just behind the shore was a concrete, iron-fenced area. It is in this area that most of us thronging to see the spectacle stood. The re-enactors stood on the shore, separated from the throng of us by the fence. Through the iron bars, you could see men in sixteenth century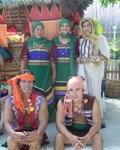 garb, cloths wound around their waists, scarves about their heads. Many had kampilan, bamboo shields, and spears about two heads taller than themselves. We were all looking for Lapu-lapu and Magellan.
I was a bit disappointed. There'd be no clear photos of the performance from this distance, standing behind 3 other people. So, I decided to go and ask someone if there was some better spot to stand in. Along the way, I noticed the huge statue of Lapu-lapu towering over the plaza. It was festooned with two huge wreaths of flowers and balloons tied every few feet around the perimeter. I saw a man who was talking to 3 of the Kadaugan staff (they had special tee-shirts on and badges around their necks). I asked him, "Nasaan po ang magandang puewesto para makita ang performance?"
He laughed, took a puff of his cigarette, fixed me with a cynical eye and replied, "Sa media booth." In the media stands. He and his staff laughed at that. A lotta good this was gonna do me. "Media ka ba?" He asked me. Are you media? "Hindi," I replied. No. I was there as a tourist, even though I was doing research for my book, I wasn't on assignment (though, certainly with the right photos and my avid notes a great essay and article could come out of this experience). I had my digital camera draped around my neck. I had my black field bag. I had my very American looking clothes, my blue-eyed sweetie of a husband, and our mestizo-looking boy with us. We stuck out quite a bit from the crowd.
"Have you EVER been part of the media?" he asked me, giving me a second chance. At this point, I opened up my field bag and produced a reprint of one of my articles. It was glossy. It had my business card clipped to it. I had been carrying a stack of them around…well, just in case they'd come in handy for something. The man turned to his staff and told them to go find me a press pass. Now, at this point, if I had been on Candid Camera, I would have turned to it and mugged some kind of incredulous smile and whispered, "Can you believe this?!"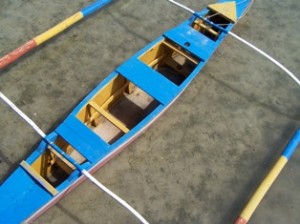 I pointed to Alan and Boy-boy and said, in Tagalog that I'm here with my family. I didn't want to leave them. I'd dragged them up and down the East Coast of Cebu for 2 days already, in a van, through motion sickness and heat and humidity. They'd been such good sports already and so supportive of my work. This was the one thing I really wanted to make sure we all saw together. The man looked at them and said, "No, just you." Because they weren't media. So, I declined the pass. It just didn't feel right to strand my family in that way. Then, a big wig wearing a formal barong Tagalog came up to the man. They began shaking hands and talking. And I knew I'd missed my chance to get behind the scenes.
My family and I walked away, back towards the throng to find a spot. And we managed one, in a far corner, by some teachers. Alan turned to me and said, "You should've taken the Press Pass." I said, "No. I want to be with my family. I want to be with you guys."
"We would've been all right. We're in a good spot, now." And I looked at what we'd found as a puwesto. It was close to the VIP section (though still fenced off and far away from the shore). It was in the shade. It was pretty good, at least decently comfortable even if the photos would be too distant to be of use. And then I began to think about it.
"Go back," Alan said. "Go tell him you changed your mind."
"No," I said, afraid to look foolish. "That would be ridiculous. I'd already turned him down."
"Just ask. Look. We're all right. See? This is for your work. So, go and do it," Alan instructed. I looked at my Boy. He mumbled something to his dad like, "Isn't that the whole point we're here, for Mama's work?" I don't know why, but in that moment it felt like such a hard decision, one that working mothers have to face all the time. When to stay and when to go. I also felt this wonderful sense that it was a good thing, something I'd be proud of that my son could see me at work and see the value of women working, doing things that aren't strictly traditional.
"All right," I said and sighed. "I guess I'll go." I still felt foolish. "All I can do is ask, right?"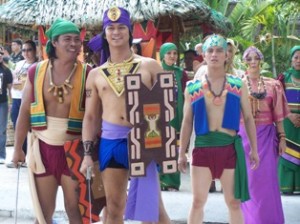 At that very moment — I kid you not — the Man's assistant showed up with a Press Pass dangling from a string necklace in his hand. He gave it to me and indicated for me to put it on. He waited. OMG! The timing was so brilliant!
I spent the rest of the morning following the Manila and Cebu press folks around. Me, this little writer from Chicago. And, in the end, the Man's staff let Alan and Boy-boy in to sit with the VIP's. Was it kindness or guile? Or a practical move? Or all of the above, to get more coverage of the event and spread the publicity? Probably all. And, man, am I thankful.