In planning this organic garden, I've had to call on the guidance and infinite patience of my friend, Garden Diva. (Me: "What does germinate mean?" GD: Tries not to roll her eyes. The sound of someone summoning tremendous restraint. "Sprout, it means sprout." Long, long pause. "M.G., even my kids know what the word germinate means!" *lol*) GD showed me how to look at the thin rectangle patch of soil that once was lawn, how the sun moves across the sky, where the sunlight will linger and where shadows will fall in my yard. Apparently all this affects how much sunlight the hungry plantlings will get. Who knew?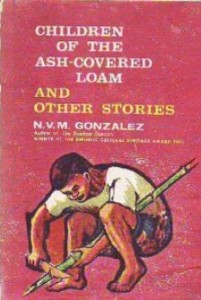 She clued me in on the mysteries of which vegetable plants needed the most sunlight (tomato), and which ones would grow huge & wrangly (tomato), and which ones are greedy for nutrients (tomato). Garden Diva stuck her hands in the "soil", felt the texture. I dream of loam, the rich, dark, fertile earth that my teacher & inspiration N.V.M. Gonzalez wrote about in his short stories. But, alas, no. The verdict by GD's expert hands was that our "soil" was largely clay. I defer to her expertise — her years growing up on an Illinois farm, her intense passion for organic gardening books, and the health and beauty of her own garden.
So *sigh* before any planting could happen, I needed to make amends. Amend the soil. For my itsy-bitsy, teeny-weeny, yellow-polka-dot vegetable plot (20 x 2 feet) this entailed:
11 bags of organic topsoil
4 bags of Moo-nure (organic manure + compost)
1 tall glass of ice-water
It also entailed:
Scraping away weeds & rocks
Turning soil over (yeah, exactly. What does "turning over" mean?!)
Breaking up dried clay "rocks", soil poseurs/wanna-be's (thank the Divine for the enthusiasm of 9-year-olds armed with kid-sized gardening rakes)
Garden Diva helped me to add the organic soil, and turn it with our gardening rakes. My son and I broke up the clay and my husband and I turned the soil 2 more times — and the soil still looked rocky. *lol* Well, gardening writer Barbara Pleasant says it can take years for soil to heal, for it to enrich. She speaks of it as a living thing, a living process, an ecosystem unto itself. As our Native Ancestors in the Philippines would have known, the very soil of the earth is the dwelling place of spirits…the earthworm, the centipede, the ant, the microscopic beings we can't see who contribute to our well-being.
On the left is our clay-like "soil" and on the right is organic soil I bought: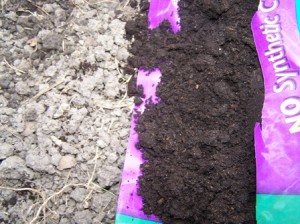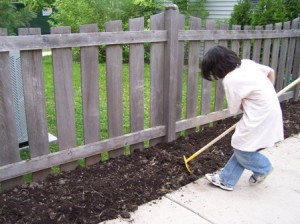 And this is the younger generation helping to heal our ailing soil. Better to inherit something rich & living, di ba?
The crazy thing about this whole soil amendment is that about 5 years ago, our entire backyard's soil was removed (down to 3 feet, trees, shrubs and all) because we lived next to a site that had to be remediated for coal tar & gas processing equipment that had been left behind. We'd left our house for a month while the responsible party remediated our backyard. The rest of our neighborhood took 2 years of shaking, bull-dozing, and community cooperation. So, from the time our boy was born, up until now, I'd been dreaming of having a healthy garden. 9 years.
So when Garden Diva told me how much I'd have to amend our soil, I was like (please excuse the  symbolic, multi-lingual cursing), "What the !@#$$%! ???" Turns out that the clean soil that had replaced our toxic dirt was also poor and nutrient deficient. Environmental justice indeed.
I will say that after the last week of shoveling, raking, turning soil over with a pitchfork, mixing in compost and manure — I feel a deep sense of satisfaction. *ahhhh* The soil, while still pebbly with clay rocks, drains better and it's a deeper brown. Looking forward to the healing and to N.V.M.'s loam…
~ M.G.B.
From 5/23/10