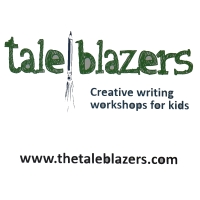 It has been a fun and busy summer. I taught 4 creative writing classes for kids in the vibrant Oak Park Arts District Summer Camp. It was a joyous time! My favorite moments: Seeing one student gripped by her imagination and shaking from the excitement of the Story that was unfolding on the Page. Helping one young writer realize first drafts can be messy – very liberating. Listening to my five, six, and seven year old students play djembe and xylophone and read a poem full of sound words (onomatopoeia) they had invented. Zimbitty-zimbitty! Boom-boom!
The wild ride continues this fall. From Oct 1 – Nov 19, I'm offering a Taleblazers class called Audacious Authors (Ages 7-11), a facilitated writing group for kids who love writing. Saturdays, 2:15 – 3:45 p.m. Writing games, skits, role-plays, and examples of how professional writers play with and edit their own pieces. Encouragement, fun, and a gentle approach. Kids can come scribble & play with words! It's a supportive way for young authors to stretch their wings. For more info and to register, go to www.thetaleblazers.com
Questions? Drop me an email at: msmg@thetaleblazers.com. Or ring me at: (708) 317-TALE.
With joy,
Mary Grace
(aka Ms. M.G.)