They say that the beginning of wisdom is to know that you know nothing. Yes, friends & kababayan, given this definition — it's official — I am wise. Starting this new adventure of putting together a small organic vegetable patch in my backyard has made me realize how much I don't know. Like:
When do you harvest tomatoes? Sitaw (long beans)? Edamame (soy beans)?
Are there better times for planting than others? Morning? Moonlit nights?
How do you know when to harvest? When are the veggies ready?
Which veggies are better eaten young?
A bewildering array of questions bombarded me when I first decided to undertake creating this little 20 x 2 foot organic vegetable patch. It's actually delicious to see how much I don't know. I'm realizing how convenient everything is made for me at the market – all the tomatoes are the same size, same with the oranges and saging (bananas). Everything is uniform, a certain homogeneity because fruits and vegetables are sorted by size and then bagged, packaged, presented. Not so on an apple tree!
Also, someone else planted the veggies I usually eat. (Did they have health care? Can they afford to send their kids to school? I tutored a young woman at UCLA whose father, a migrant farm worker from Mexico, told her that she should return to working with the family because they needed the money more than she needed an education.) What I eat is not from the sweat of my own labor.
I'm realizing how disconnected from nature I am despite my love of the wilderness. I have no clue how the food I eat grows. If the whole transportation system of Chicago broke down for a month this summer, I would have no idea how to create my own healthy food. Of course, there's a beauty to our society's interdependence. I am thankful to the work that others have done, still do, growing, cultivating, and harvesting the fruits and vegetables and that keep my family fed — especially the small, local organic farmers and the farm workers who came to America hoping, like my own parents, to give their family better opportunities.
On the Filipino American history tip, check out Carlos Bulosan's novel America is in the Heart. Bulosan was a writer who immigrated to America and did back-breaking work harvesting asparagus, lettuces, and grapes in the California fields. He was active in labor politics and union organizing, and wrote about the racism faced by Filipino migrant workers. A bad-ass  and a literary pioneer in the Asian American community.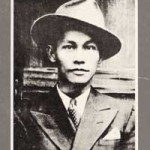 (And he's from my lola's home province, Pangasinan!)
One of the Chicago conservationists I interviewed said to me, "To save a river, first you need to know what a river is." He went on to describe, quite poetically, the flow of the current, the peace of paddling, the fallen logs submerged. That's how I'm starting to feel about the process of growing my own food…it's as if I don't what a tomato is, the bud of its flower, the timing of its growth, the season of its beauty, the hands who harvest it, the feel of the rain and sun which feed it. Maybe by the end of this summer, I'll be a little less wise.