Tanim, tanim, tanim. Plant, plant, plant.

When I woke up this morning, I was so excited to start the new day and finally plant the seedlings and seeds I've been gathering. Because my historical fiction is grounded in the sixteenth century Philippines, I've learned all this cool stuff about our traditional relationship to nature. Our precolonial Visayan ancestors used the word "taon" for year, meaning harvest. They marked time by the flowering of rattan, the time when everything was blooming, and the time when the kahaw birds called which signaling the start of planting. (A nod, again, to W. H Scott and his brilliant reference book Barangay.)
I'm sure many other cultures used seasons, flowers, animal behavior, and the rhythms of nature to mark time. My Jewish family and friends celebrate sukkot, the fall harvest festival. Let me know about others you love and celebrate. The more we share our zest for the land, the better!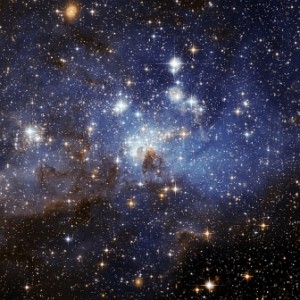 Ancient Filipinos used to have whole seasonal calendars devoted to clearing, planting, and harvesting. What would that be like (urbanized me asks) to live in rhythm with the land? To live by our own observations of the sky, to tell time by birdsong, to live in a world where the stars and constellations were our nightlights? To live by Cosmos instead of Cosmo?
Today, I had tikim-tikim, a teeny taste, of what that may be like…right in my own backyard. The sky was overcast, which at first I thought would be bad for planting. But my organic books mentioned that overcast days can actually ease seedlings into the transition from pot to ground.
Everyone planted what they wanted to eat. My son was in charge of planting the cucumbers in a mound and the watering can. My husband transplanted the Goliath and heirloom tomato seedlings, the marigolds (to ke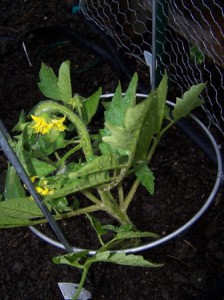 ep away bugs), and the bell peppers. We dropped climbing beans in holes next to the fence to trellis (sadly, I did not wiggle my toes to cover them with soil – maybe next year!). We closed up the chicken-wire fence I'd built to keep out the bunnies and our chocolate Labrador pack-mate who has already been sniffing out the tomato plants.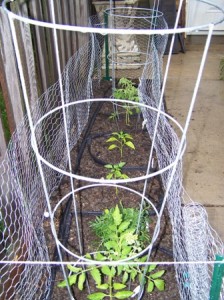 With tomato cages and chicken wire to keep out the mammals, I hate to admit it, but the organic vegetable patch looks like lock-down at San Quentin. Hopefully, the plants will lush out and push at the boundaries of their confinement.
Today, chard,  tomatoes,  cucumbers, mint from Papa's Detroit garden, marigolds & climbing beans & peppers from our friend Garden Diva, and basil, green garlic tips went into our newly enriched soil. Our boy planted 2 rows of corn and gourds in his play section. We packed as much as we could into this 20 x 2 foot organic plot. Who knows what will take root and flourish?
The deal with our son's play section is that he gets to decide what to plant there, no matter how improbable. We were getting on each others' nerves, to be honest, since I'd been reading about how to plant and space seeds and he…well…he just wanted to have fun and play! Solution? He gets 3 x 2 feet of soil and loads of freedom. In exchange, his mama gets a boy who'll feel connected and spiritually invested in the land. I get the better deal.
When my son and husband tired of planting — which is to say when the storm clouds darkened — they went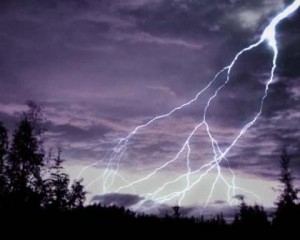 inside. But I stayed out…on the pretense that weeding is easier in wet soil. I stayed out…and felt the pleasure of warm rain pelting my skin, heard the thunder rumble in the sky's belly, witnessed the awesome power of lightning fork and flash. Right after planting, the rains coming felt like a blessing…I think the Ancestors would approve.
~ M.G.B.
From 5/31/10